If your church is comfortable with either suits or jeans, chances are the Hammond 935 is for you. Many churches today offer both traditional and contemporary worship services.  The Hammond 935 is the one organ with the flexibility to play Gospel, classical, and contemporary Christian music.
For Gospel, nothing can compare to the sound of the 935's genuine Hammond drawbars with the voicing of the familiar Hammond B-3.  Whether connected to an external Leslie or simply playing through the internal Leslie, the 935 faithfully reproduces the classic "tonewheel" sound.
Classical organists will appreciate t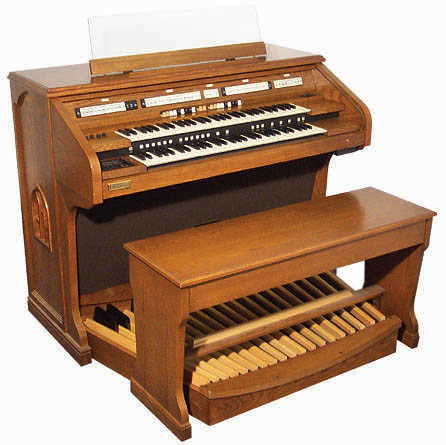 he 32 note radial concave pedalboard with a full complement of classic pipe organ stops.  All four families of organ tone are represented, enabling every type of classical organ literature to be rendered exactly as written.
Need the sound of an orchestra?  A grand piano?  Back-up choral voices?  Custom orchestral, band or combo orchestrations are possible using the 383 General MIDI voices and 10 drum kits available to the player in any combination.  The 935 also possesses MIDI capabilities never before offered in an instrument of this type, such as 7-channel MIDI keyboard controller capability, and the ability to "map" the manuals so as to selectively play the internal voices or even voices from a connected external MIDI device or keyboard.  The built-in disk drive allows the player to record and store musical arrangements as well as combination settings on floppy disks.
With 78 user-programmable presets and the ability to customize every classical organ voice to a room's acoustics, the Hammond 935 is in a class by itself.  Without any external amplification, the internal Leslie and speaker system is sufficient for smaller sanctuaries.  With the addition of one or more 814 Leslies, the 935 is totally capable of filling the largest auditoriums.  Whether it's a Bach prelude, Andrae Crouch's "My Tribute," or a Gospel tune set to a hip-hop beat, the Hammond 935 is able to meet the challenge.  Whether to wear a tie or not is up to you.